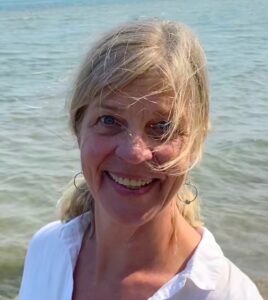 Gerlinde H. Gelina is an abstract painter and collage artist who lives in Bend, Oregon.
Growing up near Cologne Germany, she always expressed her love for creativity and human connections through her professions and her art.
In 2003 Gerlinde relocated from Cologne to Wisconsin. The support of Milwaukee's Art scene helped advance her art and personal style.
For several years, Gerlinde transitioned back and forth between Germany and the U.S. until finally settling in Bend, Oregon in 2019. She finds great inspiration through the outdoors, the people and the local art scene.
2009 Anderson Art Gallery, Kenosha, WI.
2010 Creative Expressions, Mequon, WI.
2019 Sagebrushers Art Society, OR.
2020 Wine Shop Bend, OR.
2021 Senior Center Bend, OR.
2022 Online Gallery Show : In The Abstract
2022 Online Gallery Exhibit: Art Fluent
2022 Sagebrushers Art Society, OR.
2023 Bifarin Online Show: Shapes and Colors 
2023 McGrath Green Gallery, Sunriver OR
2023 Verum Ultimum Art Gallery, Online
2023 Exibizone, Online
2023 Group Exhibit at The Commons, Bend OR
2021 Wine Shop Bend, OR.
2021/22 Schoolhouse Produce, Redmond, OR.
2023 Schoolhouse Produce, Redmond, OR